Mason in Prospect, Connecticut
Prospect Masonry Service from A to Z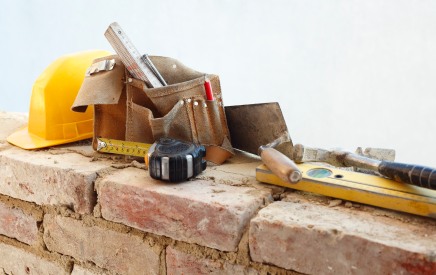 You can objectively conclude that Nick's Construction and Masonry LLC is your best choice for a mason service from these facts: we are one of the few companies that offer construction and repair services in Prospect, Connecticut for steps, chimneys, walkways, brick walls and much more. This wide-ranging experience stands us in good stead for any of the diverse work a Prospect masonry contractor may have to perform.
In fact, this is how Nick's Construction and Masonry LLC distinguishes itself from other Prospect masons. We do not constrain ourselves to a small niche; we tackle all jobs related to masonry and construction. This means that the know-how we gain from one area of practice can help us become even better in other, related areas. Interested in this cause-and-effect? Give us a call at (860) 266-2609 and we'll happily answer any questions you may have about our Prospect masonry service.
Thus, as the complete Prospect mason service, we do it all. And this means that when you want any type masonry work in Prospect, Nick's Construction and Masonry LLC is your automatic choice. What this means as a corollary is that we are practiced in the usage of masonry tools: from trowels to long shovels and from the mortar-mixing bowl to the cement-mixer, we have the experience.
We have been gaining this Prospect experience since 2005, and we got it by not being fussy. If you have a large Prospect construction project, we'll be happy to make a bid. But if you have a small stone wall repair in Prospect, Nick's Construction and Masonry LLC will do that with a smile too. And – of course – everything in between: from your walk-up steps to the chimney on the roof of your Prospect home, we'll make or mend anything.
Phone us today at (860) 266-2609 to learn more and set up a free, no-obligation quote. You have nothing to lose and everything to gain by phoning Nick's Construction and Masonry LLC, your masonry experts in Prospect Connecticut.
---
Call for FREE Mason Quote
---
WHAT CUSTOMERS ARE SAYING:
5★★★★★ - "This was the best home improvement experience I have ever had . Nick quickly came and gave a quote . Came when he said he would . Service was exceptional . I highly recommend Nick and he crew . I look forward to working with him again on the next project .
Thank you Nick !"

Carla Monaco DiGirolamo, Mason in Plantsville, CT

2019-07-17

5★★★★★ - "Nick was very professional, courteous and reliable. The project was completed as scheduled and he went over and beyond to accomodate my schedule. The fence is beautiful and I've received a lot of comlements on it. Job well done."

Anonymous, Mason in East Hartford, CT

2019-02-08

5★★★★★ - "Nick did a great job on the patio and wall project. While I don't have feedback on the work withstanding the test of time, Nick guaranteed his work. I will hire him again."

Jorge L., Stone in Manchester, CT

2019-10-14

5★★★★★ - "Nick did the job I hired him for in a professional manner. He is a personable man and does what he promised. Price was fair for the job. Excellent cleanup. Job was finished when promised. I recommend him highly."

Bruce B., Retaining Wall in East Hampton, CT

2019-10-14

5★★★★★ - "Nick installed paver walkways with cobblestone edging. We had existing walkways in place, but they were asphalt and in bad shape. Nick's team removed all of the old asphalt walkways and edging, hauled all of the rubble away, installed the new walkways and patios, installed new edging, and filled in with top soil all withing 2 weeks. Here are some of the details of the amount of work we had done for comparison: The walkways were 4' wide and a total of 81' in length connecting the front of the house to the back and to the shed. We also installed a 10' x 16' patio. This was all done using Holland Stone with a dark gray border and granite cobblestone edging. Nick was great to work with. He incorporated everything I requested and was very responsive. He also came by to meet with me about any questions that I had. I would recommend him to anyone who is thinking of installing pavers."

Sarah H., Pavers in East Hartford, CT

2019-10-14

5★★★★★ - "These guys were great - hard-working, meticulous and amazing clean-up and family and friends have marveled at the job they did."

Freeman B., Steps in Bloomfield, CT

2019-10-14

5★★★★★ - "Very good customer service and very knowledgeable in the field. Provided lots of suggestions and pictures of previous work done to review."

Doug P., Cement in Orange, CT

2019-08-13

5★★★★★ - "Nick and his team are totally professional, responsive to concerns and provide great value and input on the work they do. I loved working with them."

Claudette T., Retaining Wall in Milford, CT

2019-08-13

5★★★★★ - "The patio and step installation was excellent. Superior quality of workmanship and material was second to none. Not only did they consistently show up on time, but they finished the project on time as promised. Final project turned out great!"

Ken S., Patio in Oxford, CT

2019-08-13

5★★★★★ - "Had Nick replace my concrete porch, stairs and walkway with his beautifully designed granite/paver porch and paver walkway. He had 3-4 guys out every day(even Sunday) until job was finished. These guys are old time craftsman who know what they are doing and work hard. Very pleased and recommend highly."

John and Karen in Hamden, CT

2019-07-16

5★★★★★ - "Friendly , courteous and above all aims to please you. His workers are outstanding and very respectful. I would strongly recommend his company and workmanship. His prices are great and my driveway looks beautiful."

Michael F., Driveway in North Haven, CT

2019-06-11

5★★★★★ - "Nick and his crew showed up every morning between 7:30 and 8:00am ready to work. They were professional and preformed quality work. They broke up concrete pads than install pavers and built stone walls around the Patio. They worked hard and got it in agreed time frame. Could ask for more."

Michael B., Brick in Guilford, CT

2019-06-11

5★★★★★ - "Nick repaired a wood retaining wall that had fundamental design problems. He offered various solutions to rectify the problems given a tight budget. We picked one and the final product made the wall look like new."

Gerry C., Retaining Wall in Hamden, CT

2019-04-11

5★★★★★ - "Super. Worked out great."

Raymond N., Fireplace in Hamden, CT

2019-04-11

5★★★★★ - "Excellent job done on a large retaining wall and fence at a substantially lower price than other contractors. Thank you."

Homeowner, Retaining Wall in Hamden, CT

2019-03-11

5★★★★★ - "We are very pleased with how our project turned out. Nick is very efficient, eager to please and did a fine job. Excellent communication and quick response! We plan to use his services in the future, as well."

Rose Marie P. , Brick in Litchfield, CT

2019-03-11

5★★★★★ - "One of the best contractors I've ever worked with."

Rose N. , Pavers in Milford, CT

2019-03-11

5★★★★★ - "Nick is a true professional with a background in both architecture and construction. He has impeccable judgment about both materials and looks. The fact that he is also reliable made working with him a real pleasure."

Brigitte S. , Driveway in Hartford, CT

2019-03-11

5★★★★★ - "Extremely professional, i will use nick construction for future work, will recommend to friends, family and neighbors. I am completely satisified with job and price. Thank you Service Magic for your great service."

Walter H., Stone in Hartford, CT

2019-02-08

5★★★★★ - "We had our retaining wall repaired. Nick reused our blocks as requested and did not try to talk us into anything more than we asked.They disassembled our wall repaired the soil, added drainage and mesh and rebuilt the wall / They were very professional, came to work early and prepared. They were very efficient. Work was done faster than I expected. The work quality was very good. WE have given his name to a few friends already."

Tracina B., Retaining Wall in Berlin, CT

2019-02-08

5★★★★★ - "Nick came over for a free estimate, called that same night with a quote. Completed the work when promised, and did an excellent job."

Jose G., Patio in New Britain, CT

2019-02-08

"Nick completed the job in an extremely timely manner- I've had many compliments on my new wall. I couldn't be more pleased. I plan to use his services again. Excellent experience. Thanks again, Service magic, for coming to my rescue."

Mary M., Retaining Wall in Burlington, CT

2019-01-18

4★★★★☆ - "Excellent job"

Tara W in Stratford, CT

2019-01-18

5★★★★★ - "Prompt, inexpensive, quality work. The retaining walls were installed exactly as I had requested. I was so pleased with his work, I extended the job to include renovations on my front steps and installation of a stone wall enclosing shrubbery (which they installed) at the front of my home. I recommend Nick Construction highly."

Wayne S, Retaining Wall in Hartford, CT

2019-01-18

5★★★★★ - "on time,very professional,a bit pricey"

anonymous in West Hartford, CT

2019-01-18

5★★★★★ - "Nick's construction did a true professional job. They were on time, cleaned up after themselves and were finished on the day they promised and all the comments from people passing by have been that the new fench which they installed looks great..."

Russell A in Shelton, CT

2019-01-18

4★★★★☆ - "good, timely work. Went above and beyond what was asked and expected from him."

Craig M., Brick in Orange, CT

2019-01-18

"Nick was able to find the firebox dampers that all the other contractors said did not exist. He installed them with a minimum of mess and time and repaired the fireboxes to look like new. We found him pleasant to work with, with a real "can do" attitude, and very efficient. We would definitely recommend him to others and use him in the future."

Lynne M, Fireplace in New Haven, CT

2019-01-18

5★★★★★ - "Nick came out to give us an estimate within hours of talking to him. He had some great ideas about our project and gave us a good price. We talked to him on Saturday, he was here on Monday. The project was small but they were done in two and a half days. The walkway looks awesome. The clean up could have been a little better but the project was done very well, on time and at a very good price."

James M, Pavers in Naugatuck, CT

2019-01-18

5★★★★★ - "Very professional, polite guy that had to put up with hostile neighbors to put our fence. Did the job well and cleaned up the place to our and the hostile neighbor's liking.Competitive pricing and completed the job on schedule. I would recommend Nick!"

Sai G., Retaining Wall in Stamford, CT

2018-04-17

5★★★★★ - "We are very pleased with how our project turned out. Nick is very efficient, eager to please and did a fine job. Excellent communication and quick response! We plan to use his services in the future, as well."

Rose Marie P., Stone in Lithia, MA

2018-04-17

5★★★★★ - "Like others in these reviews, I could not get other contractors to come out and give a quote, whereas Nick came the next day and was ready to do the work the following week. The work was neat and well done and he advised me on some further work without pressuring me."

Chloe S., Brick in Hamden, CT

2018-04-17

5★★★★★ - "Nick and his crew were very professional. They came when they said they would and made sure we were happy with the work as they progressed. They made good recommendations to make sure our patio would be fully functional and flowed with the landscaping. Nick knew our budget and made sure we got the most for our dollar. We were so pleased with the work we are having him come back to do our front steps and walk. We highly recommend Nick's Construction."

Eileen & Randy Doughty in Manchester, CT

2018-04-09

5★★★★★ - "They did an amazing job on our concrete step/wall repair! They were very fast, friendly, great workmanship and affordable! We will absolutely be hiring them for any masonry needs in the future!"

Stacey R., Patio in Fort Devens, MA

2018-02-06

5★★★★★ - "Nick is a very personable and with old fashioned values and great work ethics as are also his crew members. Very neat and courteous .He showed up to do the job ahead of schedule and was done in 2 days . He installed a Holland block walkway and a 12 x 12 patio also ! His price was very appealing and I would recommend Nick's Construction and Masonry to anyone. Review by Charlie ,K Litchfield ,ct."

Charlie K., Pavers in Litchfield, CT

2018-02-06

5★★★★★ - "Gave us several design options and pricing with various materials. Prompt, came out the next day. All work was done same day. Crew was clean organized. Even helped to remove some stumps from the area. Great pricing, would highly recommend."

Fadric T, Sidewalks in Manchester, CT

2018-01-09

5★★★★★ - "I write to express my sincere appreciation to Nick and his outstanding crew. They were not only pleasant throughout the poroject but very responsive to my constant annoying questions. They made repairs as stated by the scope of work but went beyond that by repairing other unstable areas. Nick the owner was on the job front start to finish. I have been in the construction business for 30 plus years and have never met anyone so cooperative and with a deep commitment to do the job right. They are truly a great fit for the work they do. Highly recommend this company. In the spring I plan on using them again."

Kenneth R, Brick in Clinton, CT

2018-01-09

5★★★★★ - "I found it difficult to get a call back from other chimney companies, but Nick responded to my inquiry in a matter of hours. He met me the next day for an estimate, walked me through exactly what was wrong and what would be fixed, and provided a detailed bill of the services that would be completed. He also showed me photos and videos of other jobs so I had an enhanced understanding of what I was paying for. He scheduled the job to begin three days after we signed the contract, and finished a day earlier than expected. He allowed me to inspect the work, and offered a one year warranty on all services rendered. He was incredibly professional, courteous, thorough, efficient, and fair priced. I cannot recommend him highly enough, and will be using him for other future masonry projects!"

Andy B., Brick in Stratford, CT

2018-01-09

5★★★★★ - "FANTASTIIC WORK - professional, thorough- done on schedule - these guys are true artisans and love what they do - I highly recommend these wonderful guys!"

Elaine S., Retaining Wall in Hamden, CT

2018-01-09

5★★★★★ - "The project was top notch. They showed up on time, the team was couteous, and the final project turned out great!"

Mark J, Fireplace in Shelton, CT

2018-01-09

5★★★★★ - "We had Nick and his team do a repair to our chimney, and the work that he did was everything that we had anticipated and more. He and his entire team were courteous and professional, and Nick was fully open about everything that would be involved with the job, so there would be no unexpected surprises."

Scott and Jacqui Testori
---
Call for FREE Mason Quote
---